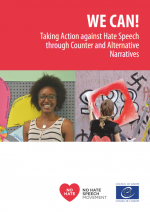 This manual offers guidance to develop counter and alternative narratives to combat hate speech and promote human rights, especially in online environments. The manual proposes a set of online and offline communication and educational approaches, and tools to undermine narratives, which sustain and legitimise hate speech. It aims to strengthen the toolboxes of youth workers, educators and activists already engaged in human rights work and education or willing to be engaged. It is designed for and within the context of the No Hate Speech Movement, a Council of Europe youth campaign for human rights online.
Preface
Thorbjørn Jagland, Secretary General of the Council of Europe
In today's Europe, hate speech is one of the most prolific forms of intolerance and xenophobia. This is especially the case online: the internet is frequently abused by those wishing to spread propaganda and vilify different groups or individuals. More and more, in mainstream political discourse, we see a toxic mixture of hate speech, fake news and "alternative facts" posing a serious threat to freedom and democracy.
These trends stand in stark contrast to the values and aims of the Council of Europe, which is dedicated to the spread of human rights across the continent. Our Organisation has taken a leading role in defining hate speech and helping ensure that those who use it are held to account. We place a great emphasis on education as the surest antidote to hate, working with our member States to teach young citizens the value of tolerant, democratic culture. Our No Hate Speech Movement has mobilised young people from throughout Europe to expose prejudice wherever they find it, working together for a more respectful digital space.
WE CAN! is the latest addition to our toolbox against hate. The most damaging examples of hate speech are often grounded in simple stories, which are repeated over and over again in different forms. The migrants "taking our jobs" narrative, for example. Or the consistent claim, made by radicals, that Islam is "under attack". Such narratives often remain unchallenged, either because they have become commonplace, or because they are delivered in sophisticated ways.
This manual will therefore help young people and educators confront, dismantle and replace hateful narratives. There are no short-cuts: the reader will not find in these pages a single statement, slogan, meme or caricature to counter all hate speech. You will, however, be guided in identifying the dangerous story-telling that chips away at our communities. Even more importantly, you will find tried and tested methods to propose powerful alternatives. Not simply telling different stories, but building and deploying more truthful accounts of the world around us which encourage others to challenge prejudice and think critically, and which deepen our knowledge and understanding of one and other.
Further Reading
On the CoE No Hate Speech website, you will find:
PDF version of the manual We CAN!
A complete set of hand-outs used with the manual
A case illustrating how to develop a counter narrative using the manual
Inspiring examples from the campaign and other partners
An interactive book
This publication is complementary to Bookmarks, a manual for combating hate speech through human rights education, which was specifically created to support the No Hate Speech Movement. The manual presents activities designed for young people aged 13 to 18, but which are adaptable to other age ranges. (Available in a range of different languages!)