2018 saw remarkable developments on standards for equality bodies, both at European Commission and Council of Europe level. These standards acknowledge and respond to the full diversity and complexity of equality bodies, with diverse types of mandates, sets of functions and competences and range of grounds covered being addressed.
European Commission: Recommendation on Standards for Equality Bodies
The European Commission adopted a Recommendation on standards for equality bodies in June 2018, in order to ensure the independence and effectiveness of national equality bodies. The Recommendation, a legal act of the Commission, sets minimum standards concerning the mandate of equality bodies; their independence; their effectiveness, including sufficient resources and appropriate powers; and the national institutional architecture for equality.
"Discrimination has no place in the EU. We must ensure that our national equality bodies are independent, with the resources to do what they do best. They are the watchdogs of justice, ensuring all citizens are given equal rights and equal opportunities", according to Věra Jourová, European Commissioner for Justice, Consumers and Gender Equality.
More concretely, the Commission recommends the following measures:
Greater independence: Member States should ensure independence of equality bodies through their administrative structure, budget allocation, procedures for appointing and dismissing staff and preventing conflicts of interest. They should make it possible for equality bodies to gather evidence and information.
Legal assistance: Member States should enable equality bodies to handle individual or collective complaints, provide legal assistance and represent victims or organisations in court.
Adequate resources and staffing: Member States should ensure equality bodies have the necessary human, technical and financial resources and infrastructure.
Effective coordination and cooperation: Member States should provide the necessary conditions to ensure appropriate communication between equality bodies within the Member State across the EU, and internationally.
Equinet was very pleased to welcome these standards, and has been working with the European Commission since its publication to promote the Recommendation to Member States.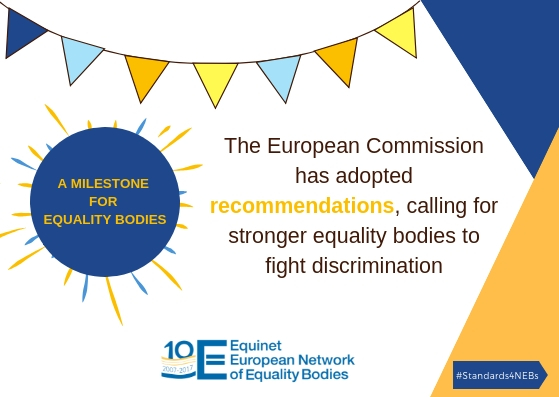 ECRI: Revised General Policy Recommendation No.2 on Equality bodies to combat racism and intolerance at national level
The Revised GPR No.2, General Policy Recommendation on Equality bodies to combat racism and intolerance at national level, was adopted at ECRI's 74th plenary meeting in December 2017. It addresses the establishment of equality bodies, the institutional architecture of equality bodies, their functions and competences and their independence, effectiveness and accessibility.
This standard will be implemented as part of the country monitoring by ECRI and the constructive dialogue between ECRI and the Council of Europe member states.
Equinet warmly welcomed the publication of this recommendation on 27 Feburary 2018 to strengthen the independence, effectiveness, functions and powers of equality bodies which will result in more equal societies for all.
"Equality bodies play an essential role in advancing equality and combating discrimination and intolerance. The ECRI General Policy Recommendation on the establishment and functioning of equality bodies recognises the importance of their work and offers clear guidance on how Council of Europe Member States can strengthen equality bodies to achieve equality and social cohesion. Equinet supports this call for independent and effective equality bodies with the powers and resources to ensure that our rights to equality are applied on the ground and made accessible to all," according to Equinet Chair Tena Šimonović Einwalter.
Next Steps?
Equinet has included a project on implementing European Standards for Equality Bodies included in the Work Plan 2019. The project aims to support the understanding, implementation and monitoring of European standards for equality bodies at European and Member State level.
Questions to be discussed are:
How these standards can best be used to guarantee independent, effective and accessible equality bodies;
How equality bodies together with European and international organisations can support Member States in the implementation of these standards;
The best ways to monitor the implementation of these standards;
The changes and safeguards equality bodies themselves need to put in place to ensure their operations are in compliance with these standards.
Equinet presentation on Standards for Equality Bodies
Further Reading
Over the past years, many actors have been calling for the strengthening of equality bodies, such as:
Equinet has worked hard to see improvements in this area, as laid out in our working paper on developing standards for equality bodies. This was launched in June 2016, in the presence of Commissioner Jourova and in the context of the Equinet conference 'Strenghening the effectiveness of European Equal Treatment Legislation'. Read our press release here.
Commissioner Věra Jourová receives Standards Paper from former Equinet Chair Evelyn Collins